Dual Astrograph Project
Dave Erickson ©2007
Until new moon occurs more frequently, additional systems are the only solution to the thirst for more astroimaging data. If you find another way aside from financial independence or retirement let me know. In the fall of last year another STL-11000M camera was ordered, this will double data collection during the monthly pilgrimage to dark skies. Actually I had a different camera in mind until SBIG offered the bargain priced Class 2 STL-11000M. With the new camera another astrograph is needed for more wide field work. Several parallel paths were taken toward an additional wide field astrograph. Rather than adding another mount the existing setup was modified to accommodate several new systems. More on this over the next couple of months, my apologies as I have been busy with family issues, some demanding work at the day job, and these telescope construction projects. The second STL-11000 has not yet arrived but things are ready. There is a lot to report, here are some rough headings...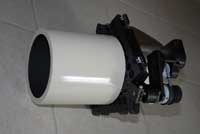 Medium and Large Format Lens Astrograph, using some of the old assets from the days of film,with another Clement Focuser
Dual computer system: 12 volt and field ready, this was tested last month and it works. Comprised of two "used" computers, a KVM switch, and a low power monitor in a water resistant case, it ran all night without killing the car battery.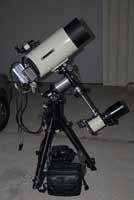 Replacing the counter weight with another astrograph: Dual Astrograph Considerations.
Oh there is a polar extender for the Losmandy mount...
UPS power system with a propane electric generator.
Testing several Meade 80mm ED APO Refractor Telescope, a cost effective and surprisingly good system relegated here to a polar alignment and finder telescope.
Additional testing of the STL-11000M power consumption and cooling capabilities under various ambient conditions, there will be some useful data for you.
Water cooling for the STL-11000M. I took the plunge without sparks or flames...
Patents are being filed for several very fast system designs, let me know if you would like to purchase one...
comments or requests please email me I'd like to here from you...